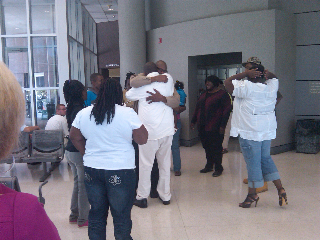 In 1995, a Forsyth County jury convicted Joseph Abbitt of the 1991 first-degree rape, first-degree burglary, and first-degree kidnapping of two young sisters from Winston-Salem. His conviction was based on the eyewitness identification of the two victims, but the circumstances of the crimes against them called into question the reliability of the identification.
After Darryl Hunt was exonerated by DNA evidence in 2004, the Forsyth County District Attorney's Office began a DNA testing program though the Forsyth County Bar Association. The District Attorney's office compiled a list of roughly 2100 incarcerated inmates who could conceivably benefit from such improved DNA technology and wrote to each of them. The letter invited the defendants to reply to the Forsyth County Bar Association, in the hope that the Bar Association would connect with a local law school for investigation. The District Attorney included Joseph Abbitt in that mass-mailing. Joseph did not respond to the Forsyth County Bar, but in 2005 he did contact the Center directly.
In 2008, the Center and the Forsyth County District Attorney's office entered into a Consent Order to test the remaining physical evidence in the case. The testing was concluded the next year and revealed that the biological evidence collected from one of the victims conclusively excluded Joseph as the source of the male DNA. Joseph was released in 2009 after serving 14 years in prison.
Sadly, Joseph died in a car accident on March 12, 2015, five and a half years after he was released from prison.
Joseph Abbitt's Case in the Media
Man Exonerated in 1991 Rapes Killed in Traffic Accident – Mar 13, 2015
After 14 Years in Prison, DNA Clears Man of Rape – Sep 4, 2009