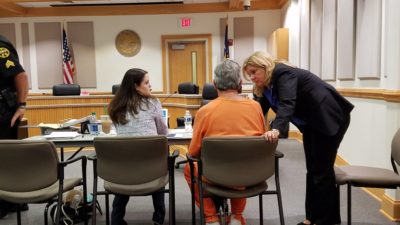 Robert Bragg confers with attorneys Chris Mumma and Cheryl Sullivan during his hearing
Incarcerated for 24 Years
Case Background
Robert "Bobby" Bragg was convicted of first-degree murder in February 1996 for the December 1994 murder of Coy Hartley.
The elderly Mr. Hartley was found beaten to death in his trailer in Boone, North Carolina.  Mr. Hartley died as a result of blunt force trauma to the head.  Robert Bragg was identified as a suspect, despite the fact that numerous witnesses confirmed that Mr. Bragg was in Tennessee at the time of the murder. In fact, Mr. Bragg waived extradition against the advice of a Tennessee judge, who suggested there was insufficient evidence for probable cause for the extradition.
At trial, the State's evidence included testimony by Kenneth Coffey, a diagnosed schizophrenic with a borderline IQ, who gave numerous inconsistent statements, and admitted to being a part of the murder.  Mr. Coffey was convicted of the same murder in a separate trial in December of 1995.  Other than Mr. Coffey, the State's case hinged on the testimony of a child witness, Jeffrey Nelson, and his mother, Renee Nelson. The Nelsons' testimony contradicted other evidence presented by the State, and Renee denied any knowledge of the crime when first interviewed by the SBI. There is evidence indicating the Nelsons received $1,000 of Crime Stoppers money for implicating Mr. Bragg.  Jeffrey Nelson, now an adult has recanted his testimony under oath and has said he was coached by his mother and law enforcement.
Center Involvement
The Center began investigating Mr. Bragg's case in early 2005 and interviewed over a dozen witnesses during its investigation. Meeting opposition from law enforcement and the district attorney's office to provide access to their files, in June 2010, the Center referred Mr. Bragg's case to the North Carolina Innocence Inquiry Commission so it could use its statutory authority to access information and witnesses.
After years of investigation and testing, a three-day Commission hearing resulted in a vote that there was sufficient evidence of innocence in Mr. Bragg's case to merit judicial review. Among other evidence of innocence introduced at the hearing, was Jeffrey Nelson's recantation.  Additionally, DNA testing identified the victim's blood on the co-defendant's clothing.  There is no evidence of the victim's DNA on any of Bobby Bragg's clothing.
July 2017 Hearing 
The 8-member Innocence Inquiry Commission voted in September 2016 to move Mr. Bragg's case forward in their process for a hearing before a three-judge panel.  On July 11, 2017, the Center filed a Plea for Declaration of Innocence on behalf of Mr. Bragg.  The hearing before the three-judge panel took place in Boone, NC the week of July 24, 2017.
In her opening statement, Attorney Chris Mumma noted that during the initial investigation over 50 interviews were conducted. Of those, 13 people saw Robert Bragg in Mountain City from Dec. 7-10, 15 people saw Kenneth Coffey alone on Dec. 8, and two people saw Marvin "Coy" Hartley, the victim, walk into his trailer alone, which contradicted State witness testimony.
Robert Bragg took the witness stand on Monday, July 24, 2017, the first time he has been able to testify on his own behalf since his arrest, and denied any involvement in Mr. Hartley's murder, saying that, "When you're arrested for something you didn't do, it just eats at you, it's terrible."
His co-defendant Kenneth Coffey also took the stand and said that, contrary to his prior testimony, he did not see Mr. Bragg beat the victim.
Shaun Delp, who overheard Kenneth Coffey in 1995 on the jail phone saying that Robert Bragg shouldn't be in jail and that he hadn't done anything, also testified.  Mr. Delp said he came to testify because "I hope to free an innocent man.  That's why I'm here."
The 3-judge panel, comprised of the Honorable Joseph Crosswhite, Gale M. Adams, and Marvin K. Blount, was tasked with determining by unanimous vote whether Mr. Bragg had proven by clear and convincing evidence, an extremely high evidentiary standard, that he is innocent of the crime for which he was convicted.  While the panel did not ultimately determine that Mr. Bragg met this high burden, Mr. Bragg continues to maintain his innocence.
Center Director Chris Mumma said, "The 1994 investigation of the murder of Coy Hartley was plagued by bias and tunnel vision within hours after the murder.  Many of the causation issues that can lead to wrongful conviction were cornerstones of Mr. Bragg's conviction.  Investigative practices have changed a lot in the last twenty years, so it's important that there is a process for cases to be re-investigated to ensure justice was served.  Mr. Bragg is the poster-child for that.  He was innocent when he was arrested and remains innocent and incarcerated after 23 years.  He must obtain the justice he deserves."
In 2018 the Center filed a motion to recuse the appointed judge, Judge Gavenus, from the case.  Judge Gavenus was previously hired by and worked for the DA whose conduct is at issue in this case. During an April 1, 2019 hearing, Judge Gavenus denied the motion for recusal and granted the State's motion to strike key affidavits. Over the course of several months, the judge denied our motion for continuance, our motion to bring in out-of-state witnesses to testify, and our requests not to transport our ill client across the State for hearings that do not involve questions of fact.  Center counsel and Mr. Bragg agreed that Mr. Bragg's chances of receiving a fair hearing, when also faced with the complete lack of cooperation by the State, were slim.  Based on the new evidence, Mr. Bragg's case was sent back with the Innocence Inquiry Commission, where we hope he will get a new hearing.
Robert Bragg's Case in the Media
Click here to read the full Press Release on the 3-judge panel's ruling.
Man Seeking Freedom Through North Carolina Innocence Process
Fayetteville Observer- Innocence Panel's Insistence on Secrecy Questioned
Case Documents:
Bragg, Robert – 2017.7.11 Plea for Declaration of Innocence (File Stamped)